ConnectOcean Education uses place-based experiential learning programs to engage students and communities in problem solving and solution finding. Our hands-on, community-based service learning revolves around Ocean life and marine ecosystems. The Educational programs combine ocean stewardship with STEM education initiatives, giving participants the opportunity to follow in the footstep of real-time researchers, conservationist and explorers!
The program combines elements of exploration with environmental education and research, anchored by passionate mentors working within the STEM Industry.
ConnectOcean Explorer Week Without Walls has not only taught me the importance of healthy oceans for the future of mankind, it has also influenced my choice to pursue a career as an environmental scientist.
Christina Hodgon (16 years old)
ConnectOcean Education Benefits
ConnectOcean Education is pure outdoor education! Participants, young and old alike, learn by exploring beaches, tidal zones, estuaries and reefs. A technology and engineering element is also part of some of the programs, such as designing and building "SMART Reefs" or ROVs (Remote Operated Vehicles) to explore the Ocean and its biodiversity. Community-based service learning is applied to foster trans-cultural dialogue and exchange.
Participants in ConnectOcean Educational Programs benefit through:

Unforgettable experiences and new friends
Community based Service Learning
Problem solving and related-solution thinking
CAS hours
Credits towards biology, geography and environmental study projects
Real life exposure and career experience in the Marine Conservation and Research Industry
Wildlife encounters - connecting to nature
Building local capacity through education
Positive and active participation in our world
Students and teachers develop skills in field science and land stewardship; identify career paths, and complete citizen science projects in support of long term ecological monitoring. In addition, students will participate in inter-cultural exchanges with local students and have opportunities to develop their Spanish language skills.
Our flagship program is the ConnectOcean Explorer. We developed the program to be as flexible as possible, so it can be customised to the age, needs and circumstances of the participants.
The program can cover a number of marine related topics and activities, depending on the time availability and location. We call these topics and activities our ConnectOcean Education Knowledge Pillars:

Ecology and Ecosystems
Coastal Ecosystems and Intertidal Zones
Coral Reef Ecosystems
Open Ocean Ecosystems
Ocean Engineering, Technology and Reef Building
Ecosystem Management, Research and Conservation
Community Service Projects
Citizen Journalism & responsible social media production
Swimming, Snorkeling and Scuba Diving skills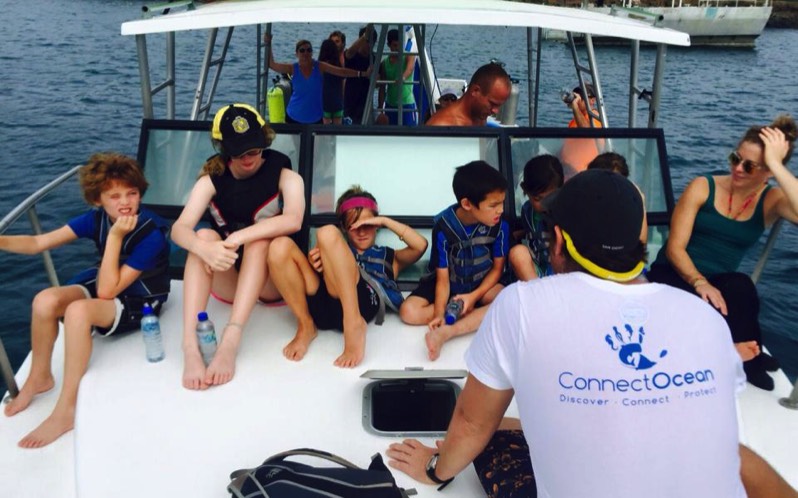 EXPLORER INTRO
ConnectOcean Explorer Intro
The ConnectOcean Explorer Intro will provide participants a basic overview of the diversity and importance with a choice between the following marine ecosystems as a half-day or full day workshop in the field:
Intertidal Explorer – Intertidal Zones
Mangrove Explorer – Mangrove Eco Systems
Coral Reef Explorer – Coral Reef Ecosystems
Open Ocean Explorer – Open Ocean Ecosystems
Currently offered in Costa Rica, UAE and Oman, tuition starting from USD 60 per participant*
*terms & conditions apply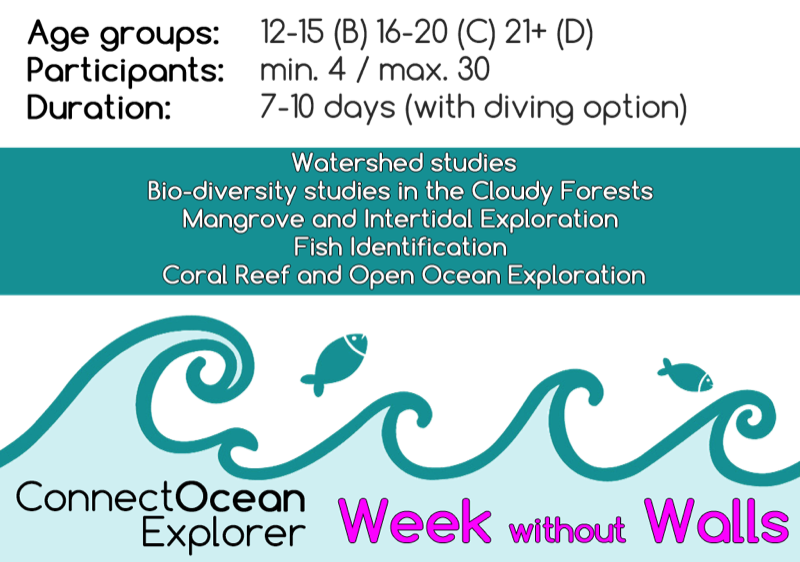 EXPLORER WEEKEND
ConnectOcean Explorer Weekend
The ConnectOcean Explorer Weekend is especially designed for students and schools wanting to participate in a weekend program. The content is structured to include all 4 of the following Ecosystems:
Intertidal Explorer – Intertidal Zones
Mangrove Explorer – Mangrove Eco Systems
Coral Reef Explorer – Coral Reef Ecosystems
Open Ocean Explorer – Open Ocean Ecosystems
Our lesson plans are tailored and scheduled according to the group size and availability either as a 2 or 3-day program. Program is available as a diving or non-diving program by adding a PADI Discover Scuba Diving Experience.
Currently offered in Costa Rica, UAE and Oman, tuition starting from USD 300 per participant*
*terms & conditions apply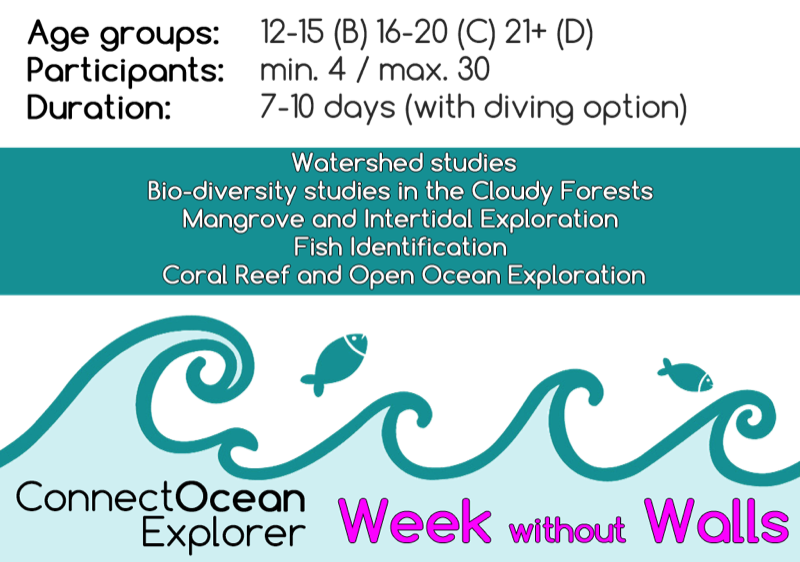 EXPLORER AFTER SCHOOL
ConnectOcean Explorer After School
ConnectOcean Explorer After School programs caters for schools interested in offering hands on outdoor education as an extra curricular program to their students. The program takes a modular approach of all 4 Ecosystems and is conducted as a 2-hour after school activity over a 12-week period. At the end of the 12-week program, participants have the option to complete a PADI Discover Scuba Experience over a weekend.
Currently offered in Costa Rica, UAE and Oman, tuition starting from USD 40 per month per participant*
*terms & conditions apply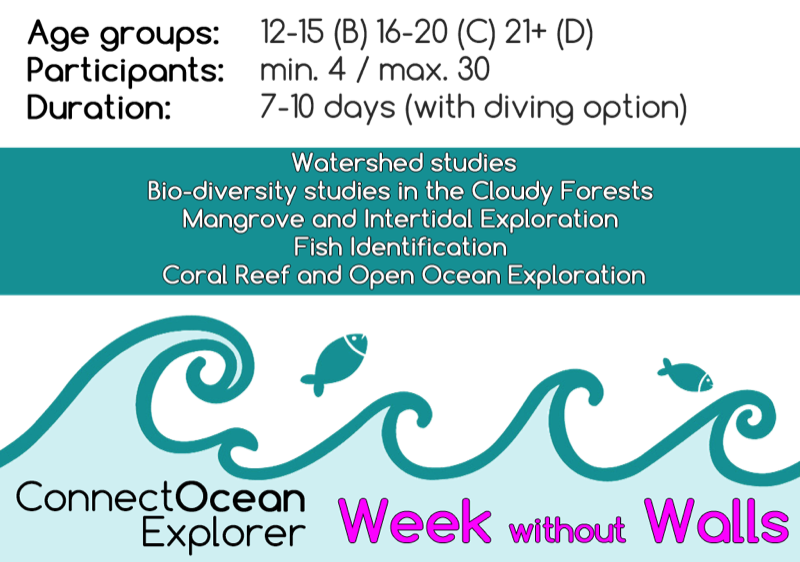 EXPLORER WEEK
ConnectOcean Explorer Week without Walls
The ConnectOcean Explorer Week without Walls is a 5-day program where students are taken out of the class and into nature to discover through exploration, connect with nature and turn their passion into action through local community projects. Real life scientists and researchers facilitate workshops in the field .The program can be combined with a PADI Dive Certification Course.
Currently offered in Costa Rica, UAE, Oman, Malaysia, Philippines and indonesia, tuition starting from USD 550 per participant*
*terms & conditions apply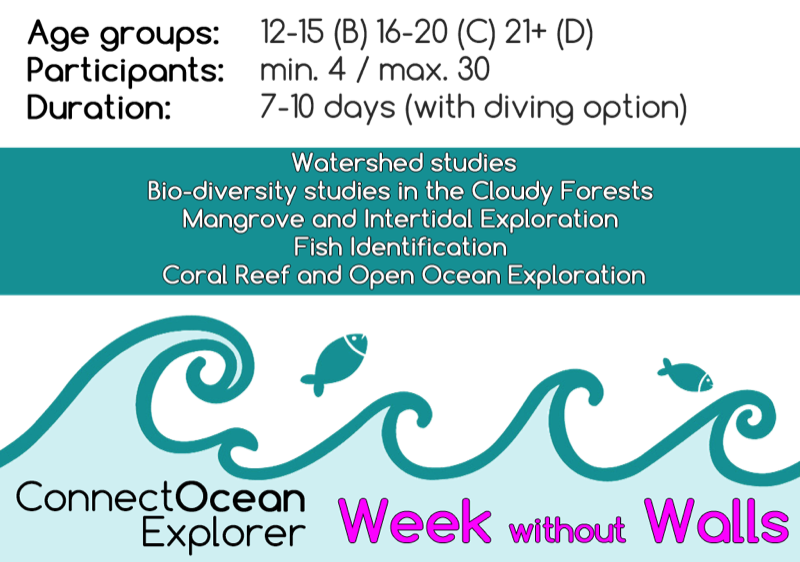 EXPLORER EXPEDITION
ConnectOcean Explorer "Source to Sea" Expedition
The ConnectOcean Explorer "Source to Sea" Expedition consist out of doing watershed studies in Costa Rica from the source of the pure mountain springs in Monte Verde right down the water table to the coast of Guanacaste.

Each day students work along side scientists and teachers, assisting in data acquisition and learning about various fields of study. We stop at cultural and biological sites I including the University of Georgia Centre of Tropical Studies, The Monteverde Cloud Forest Reserve, and the Northern Pacific Coast) are the highlights of this program. Daily activities include field studies on land and at sea, snorkeling, zip line, hikes, interacting with local youth and communities ensure for an adventure packed expedition!
Currently offered in Costa Rica, only, tuition starting from USD 1899 per participant*
*terms & conditions apply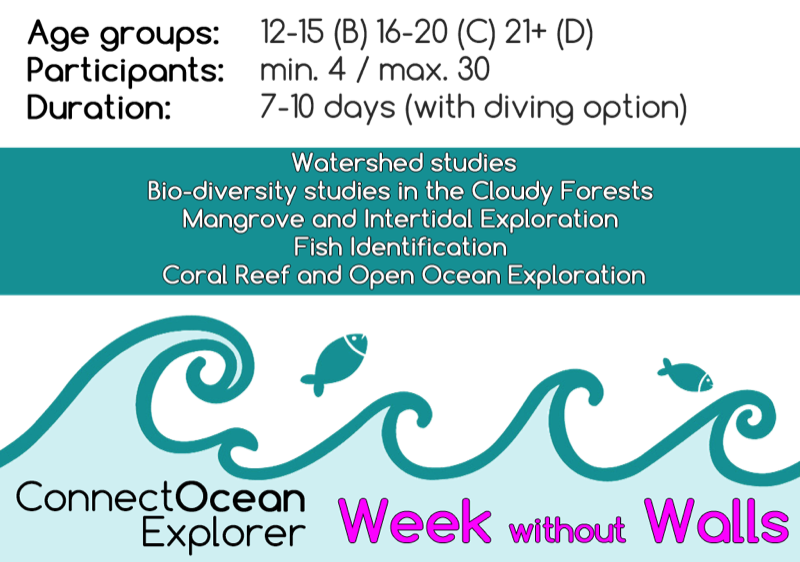 Community Service Projects
ConnectOcean Education offers participants of the "Ocean Explorer Program" the opportunity to take part in hands on community service projects.

These community service projects are launched within communities through a pilot program that lays the foundation for a long-term extra curricular educational program, combining ocean stewardship with STEM Education initiatives.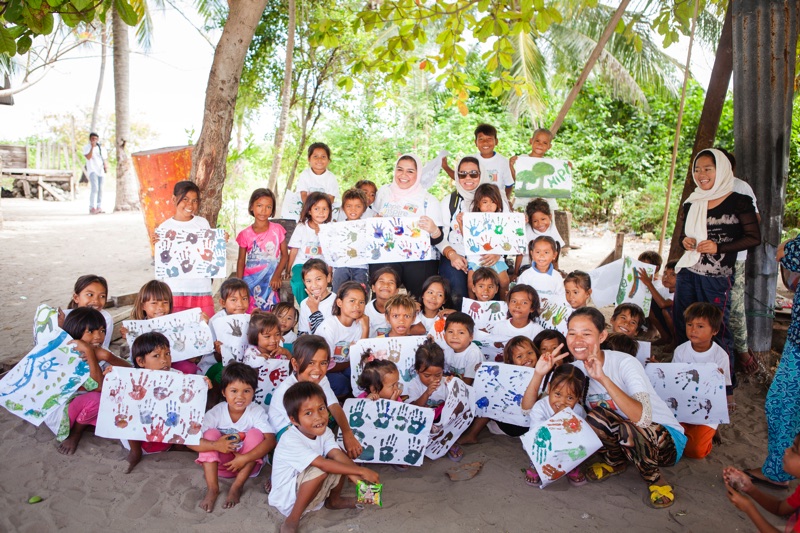 Swimming, Snorkeling & Scuba Dive Training
ConnectOcean Education believes that knowledge is less about learning than about experiencing. In order to understand the ocean environment we encourage our students to participate in outdoor activities such as swimming, snorkeling and scuba diving.

We can teach students from snorkeling or introduction course all the way to become a certified PADI Scuba Diving Instructor. We also offer swimming skill courses and "stay safe around water" programs.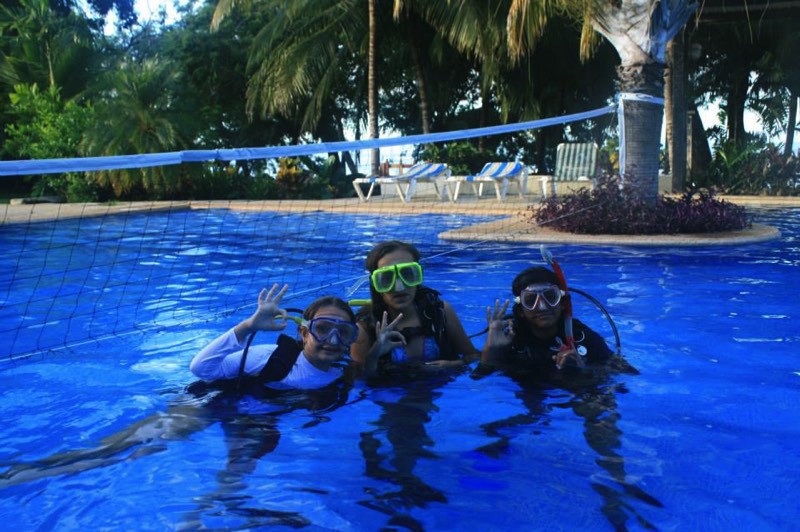 Ecosystem Management, Research & Conservation
ConnectOcean Education students have the opportunity to shadow local shark- and manta researchers in Costa Rica, U.A.E or South East Asia, doing population counts, visiting fishing markets, helping to collect DNA samples and of course, dive and identify species!

ConnectOcean Explorer integrates all elements of marine ecosystems, teaching students more about intertidal ecologies, mangroves, coral reefs and open ocean ecosystems. Further emphasis is put on resource management, sustainable seafood consumption and marine debris and pollution solutions.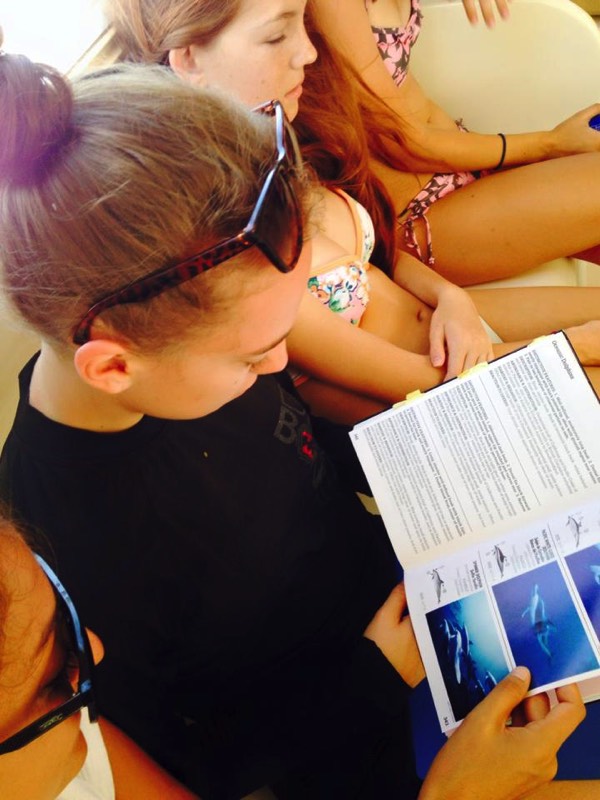 Ocean Engineering, Technology & Reef Building
Students have the opportunity to interact with Ocean Engineers in order to design and build their own SMART Reef Domes, completely integrated with science nodes to be able to record salinity, water temperature and marine life. These reefs are part of a larger network of reefs collecting data locally, yet contribute globally towards a collective network of SMART REEF DOME projects across the globe.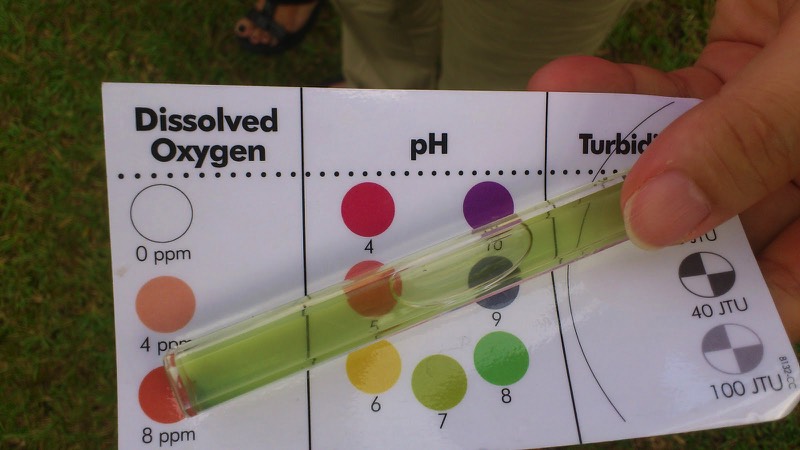 The ConnectOcean and Eco Coast Marine Biodiversity Initiative and Adopt a REEF DOME project is an interactive research project in partnership with our Ocean Engineering partners, Eco Coast based in Australia and U.A.E. Participants learn of the importance of Reef habitats and ecosystems within their local communities:
Local schools participate and learn how Eco Engineered SMART Reefs can create new habitats for local species.
Groups of students collaborate in creating their own REEF DOME designs integrated with SMART Technology and Science nodes.
Customised REEF DOME units with various substrates will be strategically placed at pre-determined locations, close to the shore line.
Schools can do monthly surveys to monitor growth on the reefs
In collaboration with Eco Coast, SMART Reef Underwater webcams provide a live underwater feed of the project allowing students to monitor the reefs on their mobile phones 24/7!
Students approach local companies to engage in corporate commitment to help build a reef
The reefs contribute to the local environment by creating new habitats. Locals may earn a sustainable income by accompanying tourists on carefully planned snorkel trails.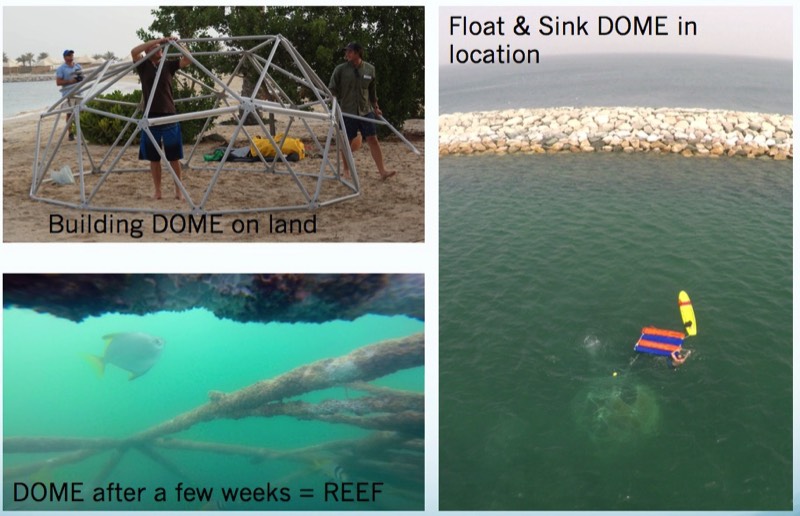 ConnectOcean believes in the power of collaboration and innovation to achieve a shared vision of educating and empowering people to care deeply about the ocean. By strategically partnering with local Universities, researchers and conservation groups, we allow the younger generation to experience the thrill of underwater exploration, research and discovery. Together, we create new opportunities using technology to engage the youth in ocean exploration; all participants impact the aquatic world, while at the same time collecting and collating valuable data in local waters and species in their communities.
ConnectOcean
Americas & Middle East

Ernst Van der Poll
Chief Executive Officer
Guanacaste, Costa Rica
WhatsApp: +506 8575 9418
Skype: ernst.van.der.poll
Email

ConnectOcean
Asia Pacific & Europe

Eric Madeja
Executive Director Asia-Pacific
Sabah, Malaysia
WhatsApp: +60128382272
Skype: eric_madeja
Email